Announcement: New Rock City Wiki Group has Officially joined Facebook. Please head over and "like" us and check back for wiki changes, updates and news.
---
Week 2 Update:
While our first week 'live' was a resounding success, the 2nd week was even busier with more than 16,700 views!
All that busy requires a team of dedicated players who are willing to share quest info, build info and random scarecrow pics.  We are very pleased to welcome our newest addition to the NRC Wiki Info-Team™ - Brenda Schankin!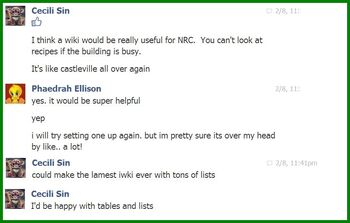 Tables and Lists:
Lets discuss the changes. When we first started adding quests to the Wiki we imagined "tables and lists" we have now evolved to tables, tabs and photo galleries! Which leads me to the biggest change this week: Tabbed Quest Sets! 1 entire Quest Set per page, separated by tabs. No more clicking through multiple pages to find the quest you need! We hope this makes quest info easier and faster to use. Please drop us a line > here< and let us know if you like the change or know of a better way, we are always open to suggestion!
Ok, lets get on with a list of new additions that have taken place the last 7 days!
Newly Added
---
Along with the new tabbed pages we have added more than 50 new Quests in 12 different Quest Sets!

A New Timed Quests Page -Make sure you check this page any time a new timed quest is released!

Lots of new Building Requirement updates, including:

6 New Houses:

7 New City Buildings:




Other non-quest related additions:

Updates to the Crafting page include:

Armory
Witch's Studio
Sweet Boutique
Women's Studio

Some New Categories have been added to our Main Page Table of Contents:

And lastly, Cecili has made some major additions to the Expansion Map, that includes quest info, items found in certain areas, Big Quarry, Greenhouse, Trapper's Hut & Gold Digger to name a few. There is also a very handy chart here: Expansion list where you can sort by population, cost and name.



Special Thanks to our team Connie Gennock, Julie Parry, and Brenda Schankin with a special Shout-out to Csilla Buzas for helping provide house and expansion info!
As always we will continue to add new items, new quests and new info about all things New Rock City.
Ad blocker interference detected!
Wikia is a free-to-use site that makes money from advertising. We have a modified experience for viewers using ad blockers

Wikia is not accessible if you've made further modifications. Remove the custom ad blocker rule(s) and the page will load as expected.