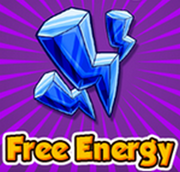 The game is fueled by energy. You can get energy from different sources, wait on the timer to refill your energy bar (+1 every 5 min), request energy from your neighbors when you are completely out of energy or energy boosts (+1), crafted food boosts like Flower Nectar, purchase energy boosts from the store, gifts and return gifts of energy potions from neighbors (+1), shared energy links (+5). The most efficient way to get more energy is to join a players group with an active links thread. Some of us have created a cooperative links page on facebook too if you aren't interested in groups.
You can find the fb page here ➽ ➽ New Rock City Energy Links
Ad blocker interference detected!
Wikia is a free-to-use site that makes money from advertising. We have a modified experience for viewers using ad blockers

Wikia is not accessible if you've made further modifications. Remove the custom ad blocker rule(s) and the page will load as expected.