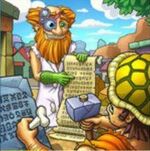 Asked Items
Many of the recipes and builds include items you must obtain from your neighbors.  Most of these cannot be obtained through other means, a few exceptions are long bone and neighbor drops (flint and brushwood).  This page contains most of the items.  If you see something that is missing, please let us know.
Ad blocker interference detected!
Wikia is a free-to-use site that makes money from advertising. We have a modified experience for viewers using ad blockers

Wikia is not accessible if you've made further modifications. Remove the custom ad blocker rule(s) and the page will load as expected.